Reading Time:
< 1
minute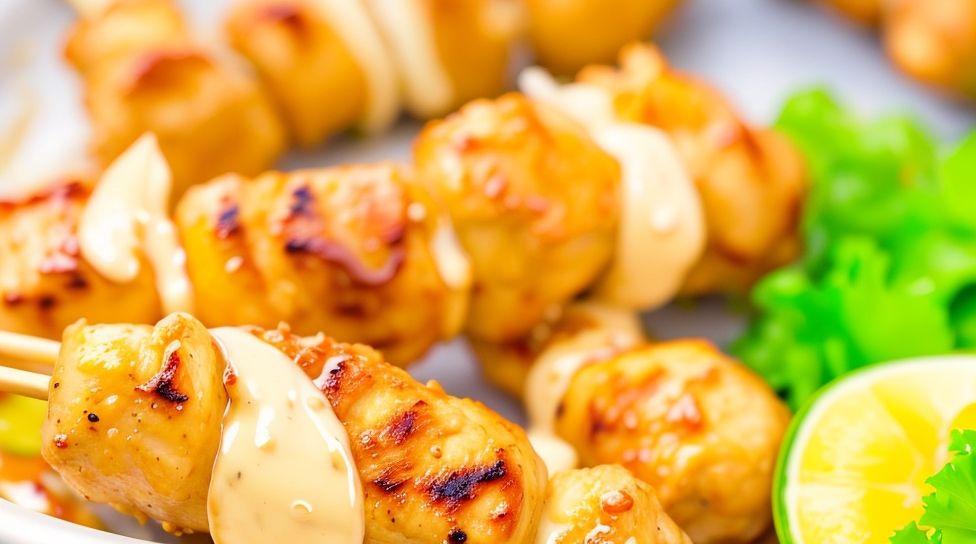 Garlic fanatics, rejoice! Enjoy the zingy flavors of homemade healthy garlic sauce that will make your taste buds beg for more. This versatile sauce is perfect with any meal – from drizzled veggies to a dipping sauce for crunchy chicken tenders. Let's explore the amazing world of this delicious garlic sauce.
This home-made garlic sauce is made from love and nutritious ingredients. Not only is it full of flavor, but also full of goodness. Unlike shop-bought sauces, this homemade one lets you decide what goes in. Garlic, Greek yogurt, lemon juice and olive oil mix together to form a creamy and tart combination that's delicious and good for you.
A special thing about this garlic sauce is its versatility. Its creamy texture makes it a great dressing for salads, adding oomph to your greens with its zesty flavor. It goes amazingly with grilled meats, enhancing their flavor while keeping them moist and tender. Plus, you can upgrade your sandwich game by spreading it on bread or using it as a mayo substitute in wraps. The possibilities are infinite!
Pro Tip: For a bit of heat, add a sprinkle of cayenne pepper or red chili flakes. Be careful though; you don't want to overpower the delicate flavors in this amazing garlic sauce.
Unlock your cooking creativity and make this homemade healthy garlic sauce today. Your taste buds will thank you and your dishes will be amazing!
Benefits of Homemade Garlic Sauce
John, a young chef, discovered the wonders of homemade garlic sauce and incorporated it into his menu. He soon saw a surge in customers! Not only did they love the flavor, but also the health benefits.
Garlic sauce has a lot of goodness:
Immune System Strength: It has antioxidants that fight infections.
Heart Health Benefits: It lowers cholesterol and improves circulation.
Antimicrobial Properties: It helps combat pathogens.
Anti-inflammatory Effects: It relieves arthritis and other inflammations.
Cancer Prevention: It contains anti-cancer compounds.
Digestive Aid: It stimulates digestive enzymes and promotes gut health.
Plus, it's easy to make at home. You can use quality ingredients and enjoy a healthier alternative to store-bought options.
Ingredients
Cooking a yummy, nutritious garlic sauce at home is simpler than you imagine. By utilizing straightforward, fresh ingredients, you can make your meals tastier than ever! So let's check out the ingredients that make this homemade garlic sauce so scrumptious:
Ingredients:
Fresh Garlic: 4 cloves
Greek Yogurt: 1/2 cup
Lemon Juice: 1 tablespoon
Olive Oil: 2 tablespoons
Salt: 1/4 teaspoon
Black Pepper: Dash
Equipment needed
Preparing homemade, healthy garlic sauce requires the right tools. You need a blender/food processor for a smooth, creamy texture. A sharp knife and cutting board are necessary for finely chopping the garlic and adding maximum flavor. A mixing bowl and whisk helps blend all the ingredients together. Measuring spoons help accurately add in other ingredients like lemon juice or olive oil. To really kick up the flavor, consider using a mortar and pestle to grind fresh herbs or spices.
A chef once believed store-bought sauces were not as good as homemade ones. He invested time researching recipes and experimenting with different ingredient combinations. He discovered that top-quality equipment could help evenly mix and perfectly emulsify the ingredients. The result? A delectable garlic sauce and a signature dish. Gather your supplies and unleash your culinary creativity – make this homemade, healthy garlic sauce a regular in your kitchen!
Step-by-step instructions
Gather the ingredients:
1 cup of plain Greek yogurt
2 minced cloves of garlic
1 tablespoon of lemon juice
a pinch of salt
Put them all in a blender or food processor and blend until smooth and creamy.
Transfer the mixture to a bowl and store in the fridge for at least 30 minutes.
Take out your homemade garlic sauce and enjoy! It's great as a dip, salad dressing, or sauce for chicken or fish.
Start using this flavorful sauce in your recipes and make your meals extra special with its garlicky twist!
Tips and variations
Unleash creativity and burstiness into your culinary journey with homemade healthy garlic sauce! Here are tips for a unique variation:
Roast garlic for a smoky flavor. Wrap cloves in foil, drizzle with oil, and bake until golden.
Experiment with herbs like basil, cilantro, or parsley. Fresh herbs will elevate the flavor.
Customize the heat. Add chili flakes for spicy or bell peppers for mild.
Try alternative bases such as Greek yogurt or silken tofu.
Add citrus zest for brightness.
For texture, add chopped nuts or blend in avocado.
Throughout history, garlic has been praised for its medicinal powers and flavor. Ancient Greeks considered it both food and medicine, and today it's beloved worldwide for its culinary contributions, especially in homemade garlic sauce.
Serving suggestions
Grilled Veggies: Serve the garlic sauce with a platter of grilled veggies; bell peppers, zucchini, and eggplant. The smoky flavors of the veggies and the garlicky sauce make a great pair.
Roasted Chicken: Drizzle the sauce over the chicken pieces. The tender meat and savory garlic sauce make a delicious combo.
Falafel Wraps: Spread a generous amount of garlic sauce on warm pita bread. Top it off with falafel, lettuce, tomatoes, and cucumbers. The creamy sauce balances out the spices in the falafel.
Pasta Primavera: Toss cooked pasta with spring veggies like asparagus, peas, and tomatoes. Stir in the garlic sauce for a creamy and flavorful dish.
These suggestions mix the garlic sauce with complementary flavors and textures. The grilled veggies add smokiness, the chicken is juicy, the falafel wraps have a Middle Eastern twist, and the pasta primavera is Italian with a creamy garlicky touch. Get creative and make your garlic sauce extraordinary.
Conclusion
Garlic sauce is so yummy and adds delicious flavor to any dish. Homemade healthy garlic sauce is a must-try for all home cooks. You can customize it to your taste and dietary needs, plus avoid unhealthy additives found in store-bought versions.
Making garlic sauce at home also gives you control of its consistency. Go thick or thin, plus use herbs and spices to elevate the flavors. Parsley, basil, cayenne pepper, and lemon zest are all great options.
Don't miss out on the rich flavors of homemade healthy garlic sauce. It's versatile and adds depth to many dishes. Don't settle for store-bought mediocrity; take charge of your culinary adventures today!
Frequently Asked Questions
Q: What are the ingredients needed to make homemade healthy garlic sauce?
A: The ingredients needed for homemade healthy garlic sauce are fresh garlic cloves, lemon juice, olive oil, salt, and Greek yogurt.
Q: How do I make homemade healthy garlic sauce?
A: To make homemade healthy garlic sauce, peel and crush the garlic cloves. In a blender, combine the crushed garlic, lemon juice, olive oil, salt, and Greek yogurt. Blend until smooth and creamy.
Q: Can I adjust the quantities of ingredients in the homemade healthy garlic sauce?
A: Yes, you can adjust the quantities of ingredients according to your taste preferences. Start with the recommended measurements and then add more or less of each ingredient based on your desired flavor.
Q: How long can homemade healthy garlic sauce be stored?
A: Homemade healthy garlic sauce can be stored in an airtight container in the refrigerator for up to one week.
Q: Is homemade healthy garlic sauce suitable for vegans?
A: Yes, homemade healthy garlic sauce can be made vegan-friendly by substituting Greek yogurt with a dairy-free alternative such as coconut yogurt or cashew cream.
Q: How can I use homemade healthy garlic sauce?
A: Homemade healthy garlic sauce can be used as a dip for vegetables, a dressing for salads, a marinade for grilled meats, or a condiment for sandwiches and wraps.